sites
channels


---
partners
tips
random Windows Theme
Farm Holidays: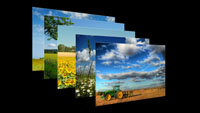 share
more
tools
info
Help us with a small donation to provide more free dreamscenes, themes and tools in the future: Donate


- Themes Gallery:
Here you can download all Windows Themes for Windows 7, 10 and 11 from dreamscene.org (free for private / non-commercial use). All Themes are optimized for Full-HD devices.
- 3D and Abstract: This gallery contains 3D, animation, and some abstract art Themes for Windows 7.

- Computer & Games: Here you will find Computer and Game Themes, such as Microsoft Windows- or Apples Mac OS X-Style Themes.

- Cars & Bikes: Find great car and bike Desktop Slideshows (Windows 7 Themes) in this gallery.

- Holiday and Seasons: Holiday and Season Windows 7 Themes, christmas, newjahr, valentines day and more.

- Life and Archtitecture: Windows 7 Themes like Cities, Buildings, Life Situations, free in this gallery.

- Movie and Music Themes: Themes based on Film, TV, Movie, Music and Bands, free to download here.

- Mystic & Fantasy: Mystic and Fantasy Style Themes, fairies, demons, mystic shadows, and more.

- Nature and Animals: In this gallery you will find nature and animal Themes, like Waterfalles, Mountains, Beaches, Cats and Dogs.

- Sci-Fi & Space Themes: This gallery contains Space and Sci-Fi style Windows 7 Slideshows, such as planets, orbits and spaceships.

- Tip:
Preview: Take a look on our upcoming dreamscenes and check out our video preview: Show preview